ebaybies are selected from abandoned, up-for-auction darlings. Their net value at any given moment is based not only on their physical condition and the near extinction of their type, but also on the current state of the market and the economic conditions of both the seller and potential buyers.

I scour the Internet's online auction sites for potential ebaybies—dolls, often labeled 'antique' whose images are particularly embedded with traces of their history and service to humanity. Each ebaybie is transformed from auction photo to fine art print through a labor intense process involving an interchange of aesthetics, narrative play, concept, and technique.

ebaybies have been rescued from the harsh realities of electronic commerce: commodity, novelty, ownership, capital, collections, and shipping. These small edition, hand printed, original fine art prints are available for adoption into loving homes. Each ebaybie comes with a Certificate of Rescue.

ebaybies transcend the auction block and the price of their heads to levels of adoration only previously imagined. Contrary to Walter Benjamin's theory of "loss of aura" in the age of mechanical reproduction, ebaybies provide a genuine and lasting friendship.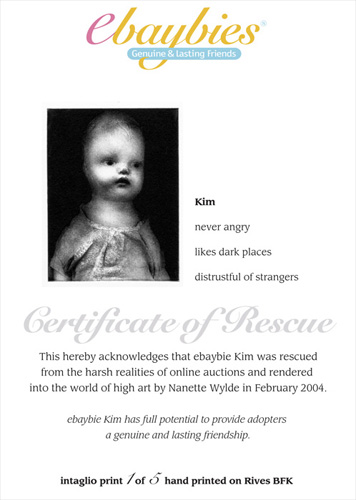 ebaybie Certificate of Rescue


ebaybie adoption counseling at WORKS/San José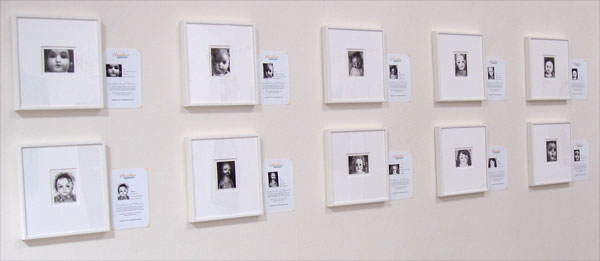 ebaybies at WORKS/San José
ebaybies at Wiseman Gallery
ebaybies adoption table