"Augmented reality (AR) is a live, direct or indirect, view of a physical, real-world environment whose elements are augmented by computer-generated sensory input such as sound, video, graphics or GPS data." ~ Wikipedia

"Geolocation-based AR uses GPS, compass and other sensors in a user's mobile phone to provide a "heads-up" display of various geolocated points-of-interest." ~ Layar.com

These projects are experienced by using the Layar augmented reality browser at the specific geolocations where each augment is placed.
Download it at: layar.com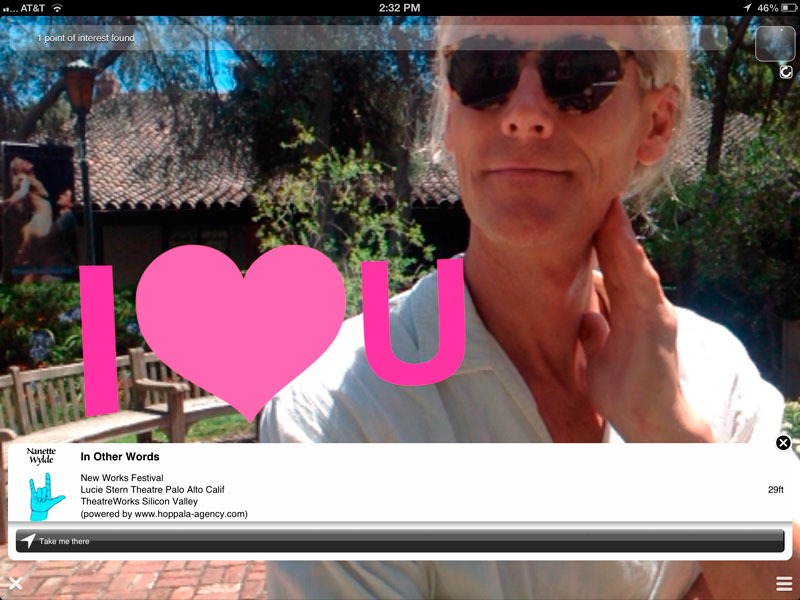 Created for the TheatreWorks Silicon Valley, New Works Festival, Lucie Stern Theatre Courtyard, Palo Alto, California.
Commissioned by the New Works Festival.

In Other Words is inspired by the many ways we communicate affairs of the heart.
In making this augment for the New Works Festival I was thinking about the predominance of the relationship theme that is in most of the current scripts, and the influences of changing technologies on how we navigate words of love.
top
---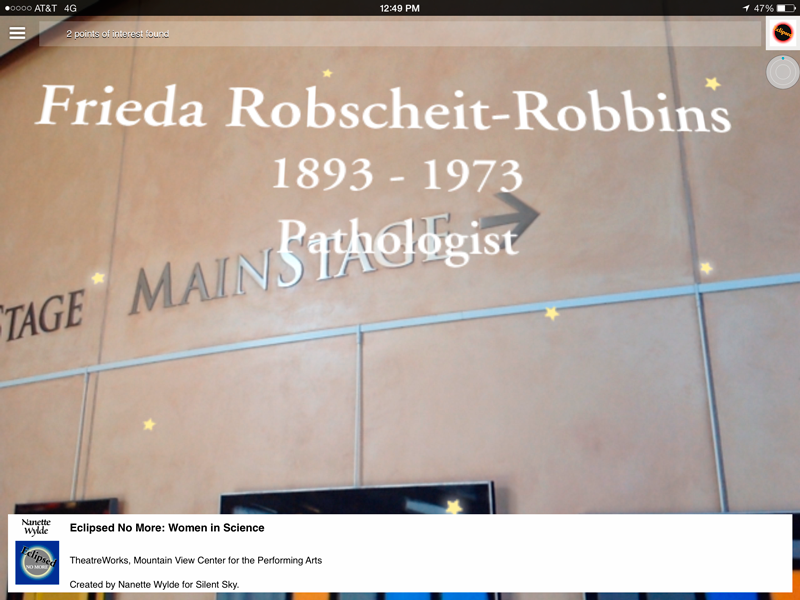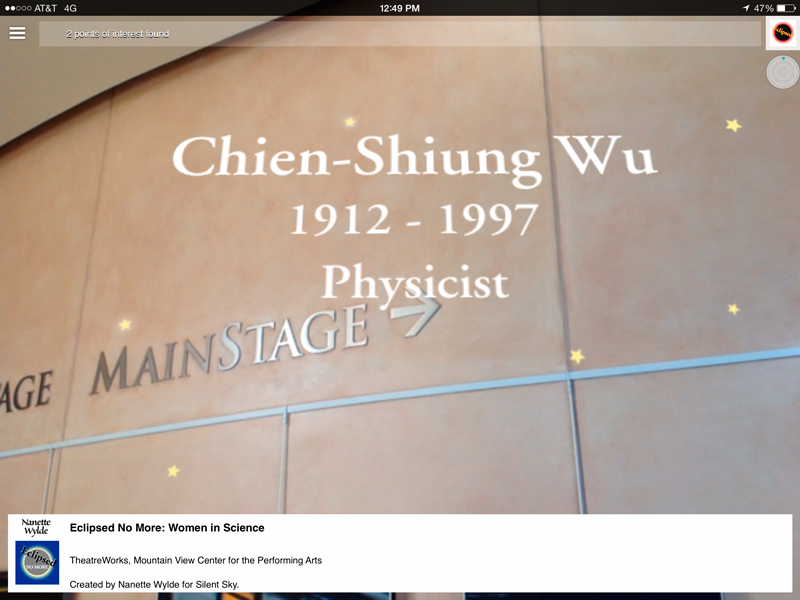 Eclipsed No More
Eclipsed No More celebrates under recognized women of science.
Originally created for the theatrical presentation of Lauren Gunderson's Silent Sky.
Commissioned by the TheatreWorks Silicon Valley.
Placed at Mountain View Center for Performing Arts, Mountain View, California.

The scientists recognized in the augment are:
Mary Anning, 1799 - 1847, Paleontologist
Chien-Shiung Wu, 1912 - 1997, Physicist
Rosalind Franklin, 1920 - 1958, Helical structure of DNA
Jocelyn Bell Burnell, 1943 - , Astronomer
Caroline Herschel, 1750 - 1848, Astronomer
Lise Meitner, 1878 - 1968, Nuclear Fission
Frieda Robscheit-Robbins, 1893-1973, Pathologist
top
---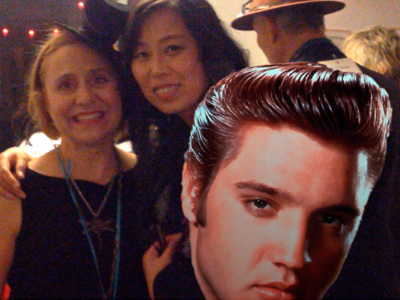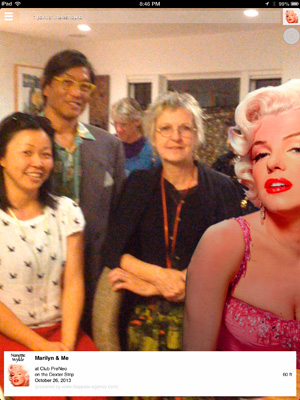 Created for: CSI: Las Vegas Book Launch Party at PreNeo Press.

Your photo with Elvis, Marilyn, Cher and Barack!
top
---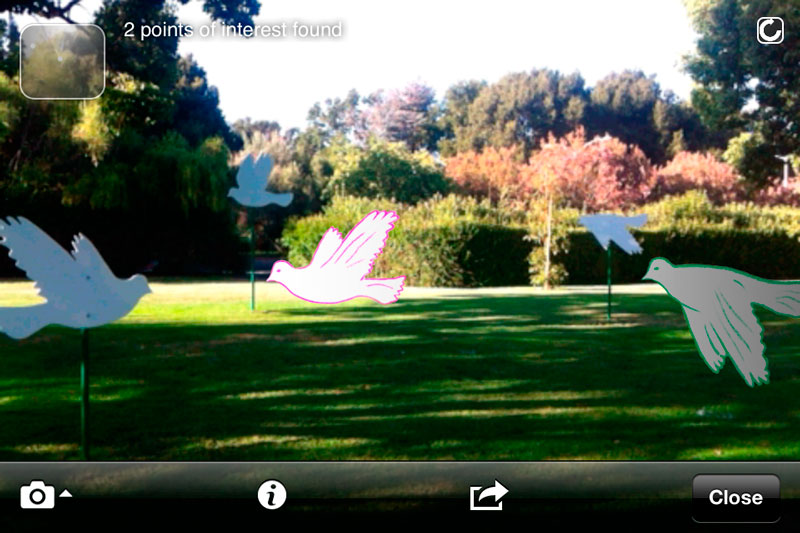 Created for the Palo Alto Art Center, Palo Alto, California.
Commissioned by the Palo Alto Arts Commission, ZERO1 and the San Jose Public Art Program, with support from the National Endowment for the Arts.

A splattering of doves, in a rainbow array of color, fly about the viewer in a 360 degree circle. The birds are hand drawn, as opposed to photographic, and thus are imbued with a fine art aesthetic, even as they animate the space. The exhibition site is marked by the shapes of birds in flight. These signs, located on the open lawn (Embarcadero Road side) of the Palo Alto Art Center, indicate to passersby that there is something else to interact with in this space.
The work celebrates diversity, creativity, nature, and the power of universal symbols.
top
---
Created for: Fukushima Biennale 2012, Fukushima, Japan.
Curated by Koichi Watanabe.
Japanese red crowned cranes fly and dance in this animated augment created for the Fukushima Biennale.
The Biennale theme is Sora or Sky.
The animated cranes act as a gift of lightness after so much sorrow.
top
---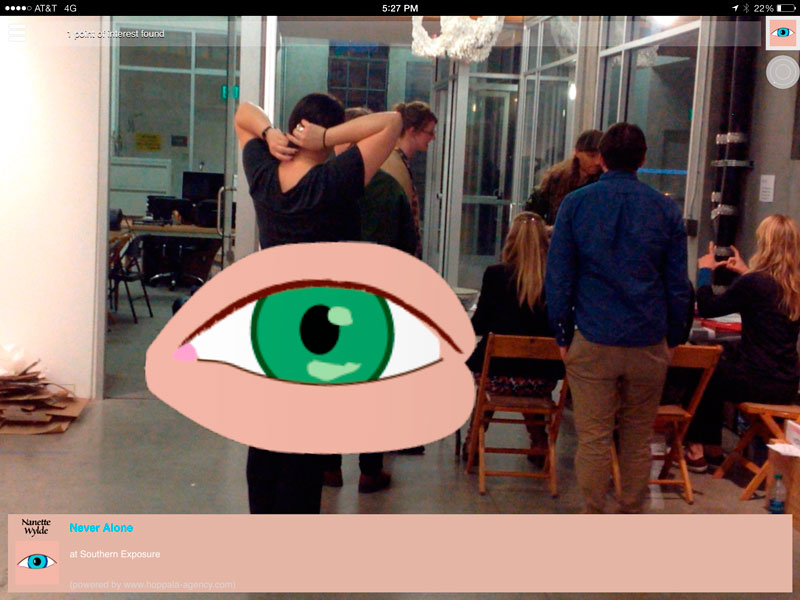 Created for: Seeking Silicon Valley ZERO1 San Jose.
Placed at significant art locations throughout the Bay Area.
Somebody is watching. . .
top
---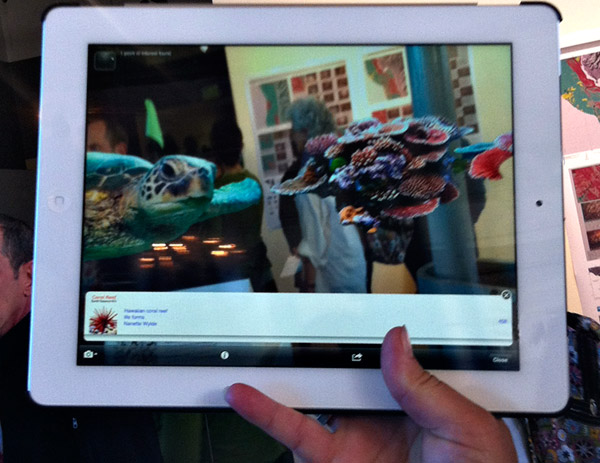 Created for: Earth • Science • Art
R. Blitzer Gallery, Santa Cruz, California; and USGS Headquaters, Reston, Virginia.
Curated by Lisa Hochstein.

I was matched with USGS scientist Ann Gibbs.
One of Gibbs' projects involves studying the changing Hawaiian Coral Reef ecosystem and inhabitants.
The augment brings lifeforms from the coral reef into the gallery space, reminding us of what lives there and what is at risk for loss.
top